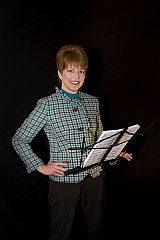 Kelly Bleyer is the newest addition to KBND News. The experience and talent she brings with her is a great assest to KBND. Join her Afteroons for the Noon and 5:00 PM news.


Kelly Bleyer comes to KBND with more than 20 years broadcasting experience. Her background is mainly television news. She's worked as an evening news anchor at five TV stations in Michigan, Wisconsin, Iowa and Colorado.
Kelly and her husband Keith (Sports Anchor at KOHD TV) and their seven year old twins Lauren and Evan moved to Bend in 2007, in part because one set of grandparents live here.
Kelly is originally from Michigan. She grew up in a Detroit suburb and is a graduate of the University of Michagan with a double major in communications and vocal music. She runs the children's choir at Grace First Lutheran Church in Bend.
Kelly joined KBND in November, 2009, after staying home with her twins for four years. They are now school age, allowing her to return to the news profession. Kelly currently anchors the noon and five o'clock newscasts at KBND with Dave Jarvis and Frank "The Count" Bonacquisti..