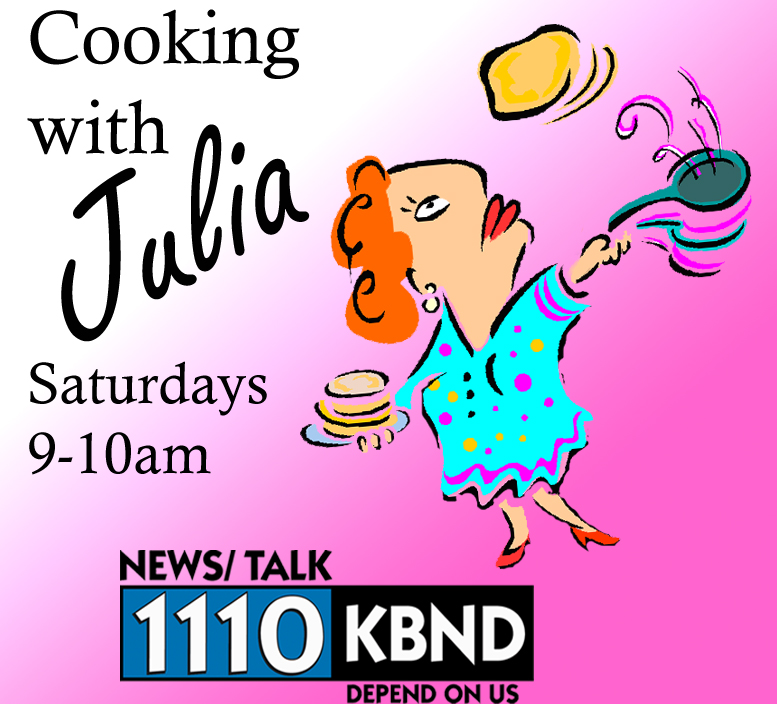 Try the newest & most creative & yummy cupcakes:
Sam's Sweet Addictions
www.samssweetaddictions.com
541-504-7026
Saturday, January 7, 2012
Broken Top Club
Bill Ballard, Ex. Chef
62000 Broken Top Drive
Bend, OR 97702
541.383.8200
Orange Soy Beef with Asparagus
Note from Chef Ballard:
Asparagus is one of my favorite vegetables. It is low in calories, contains no fat or cholesterol, and is very low in sodium. It is also a good source of folic acid, potassium, and fiber. Not to mention, it is a breeze to cook! My favorite way to eat asparagus is to simply blanch it, and then dip the crunchy stalks into mustard.
1 bunch of asparagus
Trimmed 12-oz. Flank Steak
3 Tbsp. Lite Soy Sauce
1 tsp. each: Grated Orange Peel, Ginger and Minced Garlic
1/4 tsp. Crushed Red Pepper
Instructions:
Coat grill with nonstick spray, then heat. Meanwhile, put all ingredients in a gallon ziptop bag and turn to coat. Place steak on grill; close and grill 6 min. for medium-rare. Remove to cutting board. Let rest 5 min. Meanwhile, place asparagus on grill; close and grill 5 min. until crisp-tender. Slice steak thinly across the grain.
Gently press the mixture into a 9-by-5-inch loaf pan. Whisk the remaining 1/4 cup ketchup, 1/4 cup balsamic vinegar and 1/4 teaspoon red pepper flakes in a small bowl; brush the mixture over the entire loaf. Bake for 1 to 1 1/4 hours. Let rest for 10 minutes before slicing.
Guinness Irish Stew
Lamb Shoulder 4 lbs
Guinness Stout 24 ounces
Beef Broth 1 quart
Bouquet Garni* 1 each
Onions, large diced 1 pound
Potatoes, large diced 1 pound
Celery, large diced ½ pound
Carrots, large diced ½ pound
Parsnips, large diced ½ pound
Turnips, large diced ½ pound
Salt to taste
White pepper to taste
Parsley, chopped 1 tablespoon
1. Combine lamb, stock and beer and bring to a simmer. Skim the surface throughout cooking time as necessary. Continue to cook over low heat for an hour, maintain a very gentle simmer.
2. Add the bouquet garni and vegetables. Simmer slowly for another 1 to 1 1/2 hours or until all ingredients are fork tender.
3. Season to taste with salt and pepper and add parsley.
4. Serve in soup crocks or shallow soup plates.
* A bouquet garni is a combination of vegetables and herbs used to flavor stocks and other savory preparations. It typically contains fresh thyme, parsley stems, a celery stalk, and a bay leaf, tied into a bundle.
Broken Top Restaurant's Worcestershire Sauce
Horseradish, peeled & grated 4 ounces
onions, large dice 1.5 ea.
Jalapeno, halved seeded 2.5 ea.
Garlic, minced .25 cup
black pepper .75 tbs.
Anchovies 1.75 oz.
Cloves 1 tbs.
Salt 1.5 tbs.
Lemons, halved, juiced 1.5 ea.
Oranges, halved, juiced 1.5 ea.
dark corn syrup 1.5 gal
cane syrup 8 cups
vinegar (distilled) 6 cups
bay leaf 2 ea.
Combine all ingredients into a pot and reduce by 2/3.
Mac and Cheese
Copyright 2002, Barefoot Contessa Family Style, All Rights Reserved
Kosher salt
Vegetable oil
1 pound elbow macaroni or cavatappi
1 quart milk
8 tablespoons (1 stick) unsalted butter, divided
1/2 cup all-purpose flour
12 ounces Gruyere, grated (4 cups)
8 ounces extra-sharp Cheddar, grated (2 cups)
1/2 teaspoon freshly ground black pepper
1/2 teaspoon ground nutmeg
3/4 pound fresh tomatoes (4 small)
1 1/2 cups fresh white bread crumbs (5 slices, crusts removed)
Preheat the oven to 375 degrees F.
Drizzle oil into a large pot of boiling salted water. Add the macaroni and cook according to the directions on the package, 6 to 8 minutes. Drain well.
Meanwhile, heat the milk in a small saucepan, but don't boil it. Melt 6 tablespoons of butter in a large (4-quart) pot and add the flour. Cook over low heat for 2 minutes, stirring with a whisk. While whisking, add the hot milk and cook for a minute or two more, until thickened and smooth. Off the heat, add the Gruyere, Cheddar, 1 tablespoon salt, pepper, and nutmeg. Add the cooked macaroni and stir well. Pour into a 3-quart baking dish.
Slice the tomatoes and arrange on top. Melt the remaining 2 tablespoons of butter, combine them with the fresh bread crumbs, and sprinkle on the top. Bake for 30 to 35 minutes, or until the sauce is bubbly and the macaroni is browned on the top.
Vegetable Meatloaf with Balsamic Glaze
Recipe courtesy Bobby Flay for Food Network Magazine
2 tablespoons extra-virgin olive oil
1 small zucchini, finely diced
1 red bell pepper, finely diced
1 yellow bell pepper, finely diced
5 cloves garlic, smashed to a paste with coarse salt
1/2 teaspoon red pepper flakes
Kosher salt and freshly ground pepper
1 large egg, lightly beaten
1 tablespoon finely chopped fresh thyme
1/4 cup chopped fresh parsley
1 1/2 pounds ground turkey (90 percent lean)
1 cup panko (coarse Japanese breadcrumbs)
1/2 cup freshly grated Romano or Parmesan cheese
3/4 cup ketchup
1/4 cup plus 2 tablespoons balsamic vinegar
Preheat the oven to 425 degrees. Heat the oil in a large sauté pan over high heat. Add the zucchini, bell peppers, garlic paste and 1/4 teaspoon red pepper flakes. Season with salt and pepper and cook until the vegetables are almost soft, about 5 minutes. Set aside to cool.
Whisk the egg and fresh herbs in a large bowl. Add the turkey, panko, grated cheese, 1/2 cup ketchup, 2 tablespoons balsamic vinegar and the cooled vegetables; mix until just combined.
Gently press the mixture into a 9-by-5-inch loaf pan. Whisk the remaining 1/4 cup ketchup, 1/4 cup balsamic vinegar and 1/4 teaspoon red pepper flakes in a small bowl; brush the mixture over the entire loaf. Bake for 1 to 1 1/4 hours. Let rest for 10 minutes before slicing.
Saturday, December 31
Kim's Vegie Polenta Lasagna

2 c salty water to a boil
Add 1 c polenta

Stir in heavy cream, parmesan and other shredded, butter. Constantly stirring for about 10 minutes.

Spread into sheet pan. Set aside.

Roast veggies. I have mushrooms, onion, carrots, broccoli slaw, roasted garlic, peppers. All roasted in butter and seasoned.

Add blue cheese salt pepper and veggies.

Bake 20 min. Garnish with fresh herbs.
Banana Bread
½ c butter
1 c sugar
2 eggs beaten
3 brown bananas
1 c flour
1 c brown rice flour
1 t baking soda
1 /4 t salt
1 c sour milk (show note)
Nearly 1 hour at 350. Make sure the center doesn't jiggle and it is done!
Sticky Buns (a new twist!)
A frankenrecipe mash up of two great halves!
Dog Team Tavern's Sticky Buns-dough recipe
2 medium potatoes, boiled in at least 3 cupse of water. Drained, peeled and mashed (1 cup)
½ c sugar
1 stick butter at room temperature
1 ½ t salt
2 eggs
1 envelope dry yeast
7 cups (or so) of all purpose flour (can use a mixture of half wheat and half white)
Sticky Buns Goo-Bobby Flay
¾ c butter
1 ½ c brown sugar
1/3 c honey
1/3 c heavy cream
¼ t salt
Sour Cream Waffles (granny's recipe)
1 3/4 cups all-purpose flour
1 tablespoon sugar
1 tablespoon baking powder
1/2 teaspoon salt
8 tablespoons (1 stick) unsalted butter melted
1 cup milk
1/2 cup sour cream
3 large eggs
Maple syrup or jam, for serving
Heat a waffle iron according to manufacturer's directions. Lightly oil the grids. Meanwhile whisk the flour, sugar, baking powder, and salt in a large bowl to combine and make a well in the center. Whisk the melted butter, milk, sour cream, and eggs in a medium bowl until well combined and pour into the well. Whisk just until smooth; do not over mix.
Spoon about 1/4 cup of the batter into the center of each quadrant of the waffle iron and close the iron. Cook until the waffle is golden brown, 3 to 4 minutes. Serve the waffles hot, with the syrup passed on the side.
Makes twelve 4-inch waffles.
+++++++++++
Mini Ceviche Appetizer
Recipe courtesy Ted Allen
2 pounds fresh tilapia fillets, or other firm white fish, cut into 1-inch pieces
4 garlic cloves, chopped
1 jalapeno pepper, seeded and diced
1 red onion, thinly sliced
1/2 teaspoon salt
1/4 teaspoon freshly ground black pepper
1/2 cup freshly chopped cilantro leaves
2 cups freshly squeezed lime juice, more if needed to cover fish
Combine all ingredients except lime juice in a flat-bottomed baking dish. Cover with lime juice, making sure all fish is submerged. Chill for 2 hours.
Serving Option:
Cut the limes in half before squeezing their juice for the recipe and hollow them out once juiced, forming a cup. Flatten the bottom of the lime cup by slicing off a small section at the base. Fill with a heaping amount of Ceviche. Serve on a platter.
Crostini Alla Romana
Recipe courtesy Giada De Laurentiis
12 1/2-inch thick slices ciabatta bread
12 slices thinly sliced prosciutto (about 6 ounces)
1 pound fresh mozzarella, cut into thin slices
3 tablespoons butter
6 sage leaves
Pinch salt
Pinch freshly ground black pepper
Directions
Preheat the oven to 375 degrees F.
Place the slices of ciabatta on a parchment lined baking sheet. Bake until crisp and golden around the edges, about 8 minutes. Remove the bread from the oven. Place the prosciutto slices and mozzarella on the crostini toast and return to the oven to melt the cheese, about 8 more minutes.
Meanwhile combine the butter and the sage leaves in a small saucepan over medium heat. Cook until the butter is melted and starting to brown in spots and the sage leaves are crisp, about 5 minutes. Add the salt and pepper.
Remove the baking sheet from the oven. Transfer the crostini to a serving plate. Drizzle the crostini with the sage butter and serve immediately.
Saturday, December 24th
Food & Travel Reviewer/Blog
Low-Fat Eggnog
6 servings
2 cups nonfat milk
2 large strips orange and/or lemon zest
1 vanilla bean
2 large eggs plus 1 egg yolk
1/3 cup sugar
1 teaspoon cornstarch
White rum or bourbon (optional)
Freshly grated nutmeg, for garnish
Combine 1 1/2 cups milk and the citrus zest in a medium saucepan. Split the vanilla bean lengthwise and scrape out the seeds; add the seeds and pod to the saucepan and bring to a simmer over medium heat. Meanwhile, whisk the eggs, egg yolk, sugar and cornstarch in a medium bowl until light yellow.
Gradually pour the hot milk mixture into the egg mixture, whisking constantly, then pour back into the pan. Place over medium heat and stir constantly with a wooden spoon in a figure-eight motion until the eggnog begins to thicken, about 8 minutes. Remove from the heat and immediately stir in the remaining 1/2 cup milk to stop the cooking. Transfer the eggnog to a large bowl and place over a larger bowl of ice to cool, then chill until ready to serve.
Remove the zest and vanilla pod. Spike the eggnog with liquor, if desired, and garnish with nutmeg.
Per serving (1/2 cup): Calories 90; Fat 2 g (Saturated 1 g); Cholesterol 96 mg; Sodium 59 mg; Carbohydrate 13 g; Fiber 0 g; Protein 5 g
Saturday, December 17th
The Lodge Restaurant at Black Butte Ranch
Dean Ecker, Ex. Chef
Adam Kapela, Ex. Sous Chef
1.541.595.1260- Restaurant
1.800.901.2961- Lodge
Hanukkah is December 20-28th!
Potato Latkes
1-1/2 pounds russet potatoes peeled
1/4 cup finely chopped shallots
2 large eggs, lightly beaten
2 tablespoons flour (or more) or matzo meal (during Passover) or Panko
breadcrumbs
1 1/2 teaspoons salt and freshly ground black pepper
Vegetable oil for frying
In a food processor grate the potatoes. Line a sieve with cheesecloth and transfer potatoes to the sieve. Set sieve over a bowl, twist cheesecloth into a pouch, squeezing out some moisture. Let mixture drain for 15 minutes. After 15 minutes, pour off liquid from the bowl but leave the white potato starch that settles in the bottom of the bowl.
To that starch add shallots, eggs, flour, 1-1/2 teaspoons of salt and freshly ground pepper. Return drained potatoes to this mixture and toss to combine.
Preheat oven to 200 degrees. Line a baking pan with paper towels. When you are ready to eat, in a large skillet heat 1/4 inch of oil over medium high heat until hot. Drop heaping tablespoonfuls of potato mixture and cook for 3 to 4 minutes a side; latkes should be golden and crisp on both sides. Eat right away or keep warm in oven. Serve with applesauce or sour cream or cottage cheese mixed with sour cream.
Crown Roast of Lamb
Recipe courtesy Alton Brown, 2008
2 racks lamb, 6 to 8 ribs each, approximately 1 1/2 to 2-pounds each
1 tablespoon olive oil
1 teaspoon kosher salt
1/2 teaspoon freshly ground black pepper
6 cloves garlic, minced
4 teaspoons fresh thyme, chopped
1 1/2 teaspoons ground coriander
1 to 1 1/2 tablespoons sherry vinegar
1/2 to 1 teaspoon Dijon mustard
1/2 to 1 teaspoon chopped fresh rosemary leaves
Preheat the oven to 375 degrees F.
To "French" the racks of lamb:
Make a cut on the fat side of the ribs, perpendicular to them, about 2 1/2-inches down from the rib ends. Cut through the fat down to the rib bones.
Turn the rack on end, with the bones facing up and push a knife through the flesh between each rib, using the initial cut as a guide for the knife. Cut down the side of each rib to remove the excess fat in between each rib. Using strong kitchen twine, wrap the twine around each rib at the base, nearest the meat and pull to remove all of the remaining fat and sinew from the rib bone.
Bend each rack into a semicircle (meat side in and fat side out) and using kitchen twine tie them together at the base and center, in order to hold the racks together. The rib ends should be pushed outward to create the look of a crown.
Rub the lamb with the olive oil. Combine the salt, pepper, garlic, thyme and coriander and press all over the lamb. Place the roast in a Bundt pan with the center of the pan coming up through the middle of the roast.
Place on the middle rack of the oven and cook for 30 to 35 minutes, until the meat reaches an internal temperature of 130 degrees F. This is approximately 8 to 12 minutes per pound. Remove from the oven, transfer the roast to a rack, cover with aluminum foil and let the meat rest for 20 minutes. While the meat is resting add the sherry vinegar, mustard and rosemary to the juices that accumulated in the Bundt pan while cooking. Stir to combine. Taste and adjust seasoning, as needed. Cut the string away from the roast and place cooked stuffing, rice or barley in the center if desired. Serve the warm sauce with the roast.
Saturday, December 10
Jackalope Grill
Tim Garling, Executive Chef
1245 SE 3th Street
Bend, Or 97701
541-318-8435
Beer-Marinated Grilled Skirt Steak
1 orange, thinly sliced with peel
1/2 onion, thinly sliced
4 garlic cloves, halved and smashed
2 1/4 pounds skirt steak
Kosher salt and fresh ground black pepper
1 cup light-colored beer (preferably lager style)
1/2 cup soy sauce
In a wide, shallow glass baking dish, scatter half of the orange slices, half of the onion slices and half of the garlic pieces on the bottom of the dish. Sprinkle the steak all over with salt and pepper and put in the dish on top of the orange and onion slices. Scatter the remaining orange, onion and garlic over the steak and pour in the beer and soy sauce. Cover with plastic wrap and marinate for 1 hour at room temperature or up to overnight in the refrigerator.